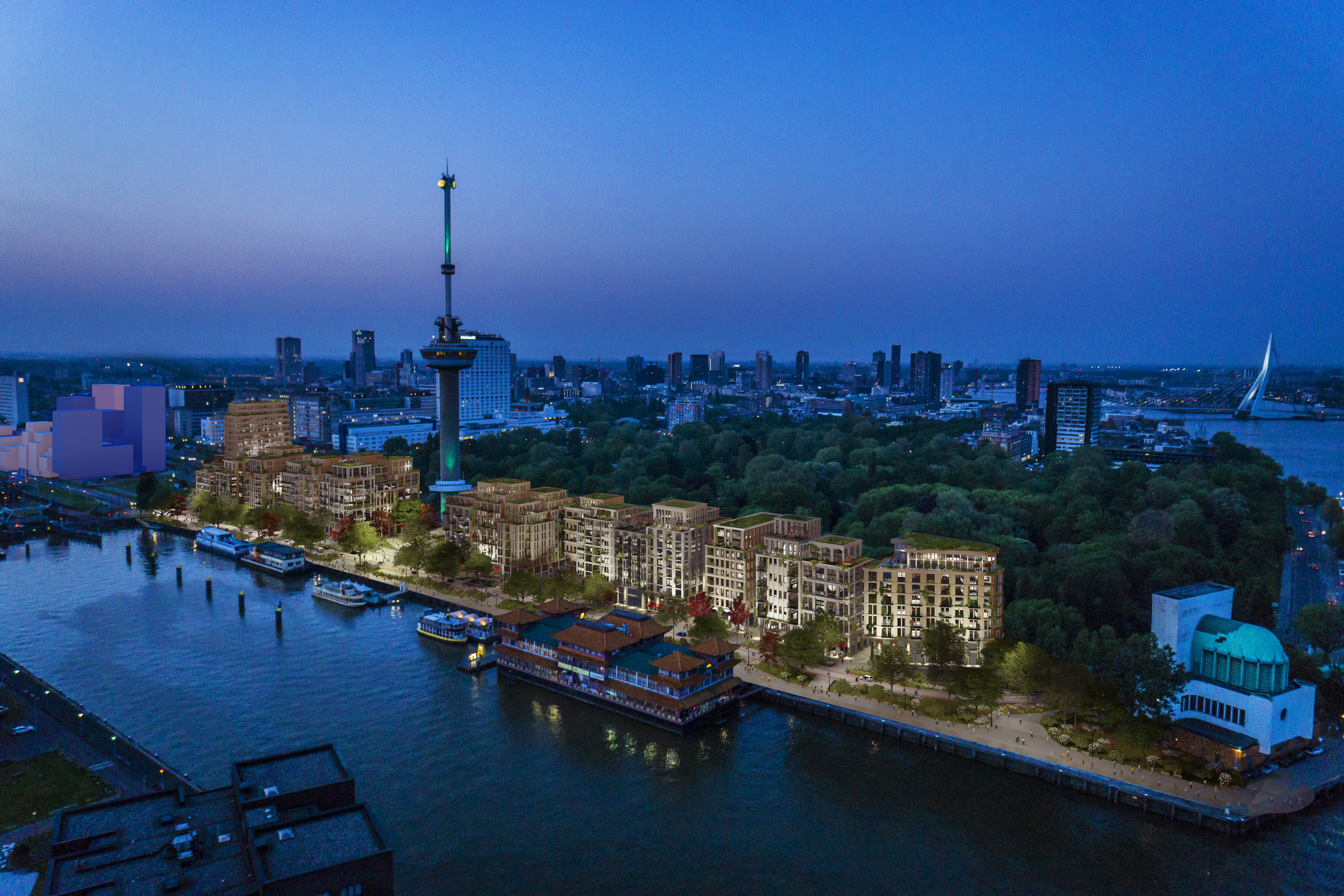 Onderzoek van start naar kansen voor woningbouw aan Parkhaven
De ontwikkelcombinatie Parkhaven Partners heeft toestemming van het college van B en W voor een haalbaarheidsonderzoek naar woningbouw in het gebied links en rechts van de Euromast, grenzend aan Het Park.
De ontwikkelcombinatie Parkhaven Partners wil hier circa 700 woningen in verschillende prijsklassen realiseren, van sociale huur tot middelduur en exclusief. Uitgangspunt is 20 procent sociale huur, 30 procent woningen in het middensegment, 30 procent in het hogere segment en 20 procent in het topsegment, overeenkomstig de wens van het college in het coalitieakkoord. Alle woningen, of het nu gaat om sociale huur of het topsegment, zullen dezelfde uitstraling hebben. In het voorstel is rekening gehouden met het monumentale karakter van Het Park, de Euromast en het monumentale gebouw van de Maastunnel. Ook is het de bedoeling om op de begane grond van de woongebouwen ruimte te geven aan cultuur, horeca, winkels en buurtvoorzieningen. De woningen komen overigens niet in Het Park zelf, maar aan de rand ervan.
Meer groen
De indieners van de ideeën denken verder aan het planten van groen en bomenrijen langs de kade van de Parkhaven en de Parkkade, en aan de aanleg van een groene brug tussen de Euromast en Het Park. Daarmee willen ze het groen aan weerszijden van de Euromast, dat deels plaats zou moeten maken voor woningbouw, compenseren. Zo kan het een gebied worden waar een brede groep Rotterdammers woont, werkt en recreëert.
Het integrale ontwerp wordt vervaardigd door CULD/INBO uit Rotterdam. CULD is een joint venture van JvantSpijker & Partners en Juurlink en Geluk Stedenbouw en landschap.
Link naar het volledige persbericht van Gemeente Rotterdam:
https://www.persberichtenrotterdam.nl/bericht/2797/Wonen-aan-de-voet-van-de-Euromast/
Link naar een artikel hierover op architectenweb:
https://architectenweb.nl/nieuws/artikel.aspx?ID=45911